Jeff Rose – SIU Distinguished Alumni Award, Young Alumni Achievement
May 05, 2017, Chelsea Kujawa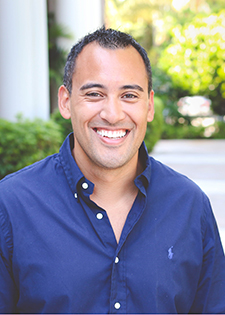 Jeff Rose can be described in many ways. Best-selling author. Business owner. Certified financial planner. Iraqi combat veteran.
Now he can add SIU Distinguished Alumni Award for Young Alumni Achievement winner to that list.
Rose graduated from SIU Carbondale's College of Business with a bachelor's degree in in 2002. He is a certified financial planner, CEO and founder of Alliance Wealth Management LLC, an investment advisory firm.
Rose served in the Army National Guard for nine years, including a 17-month deployment to Iraq in 2005 to support Operation Iraqi Freedom. He served as a squad leader while conducting military police maneuvers in central Baghdad.
In 2007, he earned the designation of Certified Financial Planner practitioner. Since then, Rose has written the best-selling book, "Soldier of Finance," which combines his military background with his financial planning knowledge.
Rose also is the founder of the award-winning personal finance blog GoodFinancialCents.com, which attracts more than 5 million new readers a year. He also is the editor of LifeInsurancebyJeff.com.
In 2010, he was recognized as a top financial advisor and named to the LPL Financial Freedom Club. In 2015 and 2016, he was voted "The Best Financial Advisor" by the Readers' Choice Awards of the Southern Illinoisan.
CNBC has nominated Rose to be part of the Digital Financial Advisor Council, and Financial Advisor Magazine pegged him as one of the "Top 10 Young Advisors to Watch." In addition, he contributes to Forbes, CNBC, Business Insider, Entrepreneur, U.S. News & World Report and the Huffington Post.
Being a thought leader in the personal finance industry, Rose has been sought out to partner with Fortune 500 companies such as Time, State Farm, John Hancock, General Motors, Master Card and Discover.
Rose said he plans to write another book that will focus on marriage and finances. He also said he plans to develop a digital media company that specializes in financial education, which will help individuals achieve their financial goals.
Rose said he feels that it is important to share his experiences with students.
"When I was a student, it was hard to know what I was going to do in the future and all of the options that are available," he said. "I want to share my experiences with students to let them know that anything is possible."
Rose also shared about his military experience and the key lessons that he learned.
"There is no question that discipline was one of the major key lessons that I learned while being in the military," he said. "I especially learned the discipline of being committed to something and finishing it through completely. Another key lesson that I learned was how to overcome hardships. When I apply these lessons to my life, I command excellence of myself constantly. If I am going to do something, then I am going to do it with everything that I have. As far as hardships, it is going to hurt, but you can get through it. If you can make it through the storm, then there will be sun afterward."
"My advice for students is don't wait until after graduation to start getting outside classroom experience. It doesn't matter whether you get the experience through part-time jobs, internships, or mentorships, as long as you get that experience. You need to begin learning these skills in college. One thing that I hope the students will remember is this: If there is anything that you want or desire, in order to get it you will have to take that first step. You need to figure out what the first step is and do it. Once that first step is completed, the rest will be easier."
"I also have advice for individuals that are trying to balance life and a career," he added. "There is more to life than your job. Don't take your family, friends, and loved ones for granted. It is good to work hard, but it is also important to have play time."
Rose and his wife, Mandy '03, MBA '05, are life members of the SIU Alumni Association and jointly produce a top rated iTunes podcast called "Marriage More." Rose remains involved with the university by offering internship opportunities to students interested in becoming financial advisors.
"My most memorable experience at SIU was my first job interview with an A.G. Edwards recruiter on campus," Rose said. "I was a nervous wreck, but I felt I nailed it!"